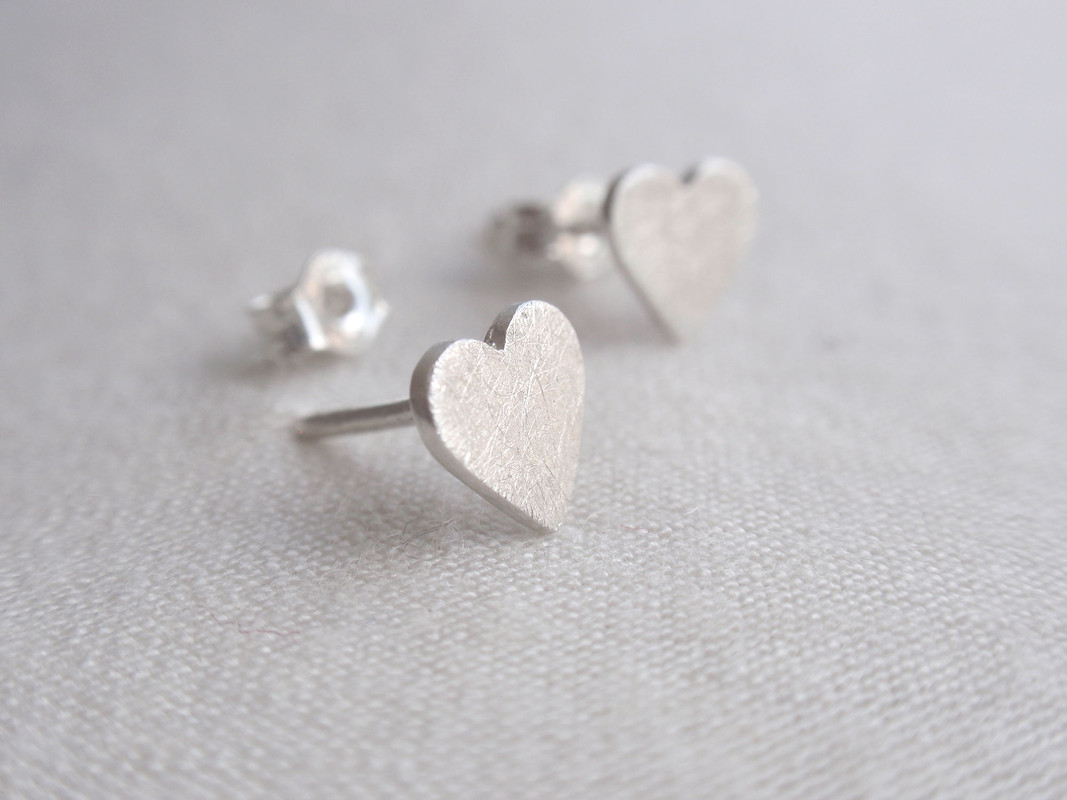 Love and Care Jewelry. We design and craft jewels with supreme delicacy, this means we take great care of the details in every single stage of the whole process of well-made jewelry, is worth to say, from conceptualization until the piece comes to life, even when packaging, delivering and tracking to the postal service and if you have been satisfied upon receiving it. Each step we take, for example, with a dainty silver necklace, cute small earrings, minimal ring, or color bracelet for summer is for you love and fall in love with it.

Cariño y cuidado de tus joyas. Diseñamos y hacemos joyería bien hecha con la máxima delicadeza, esto significa que cuidamos mucho los detalles en cada etapa del proceso, desde la conceptualización hasta que la pieza cobra vida, también en el packaging, el seguimiento del envío y sobretodo si has quedado satisfecha o satisfecho al recibirla. Cada paso que damos con una de nuestras piezas, ya sea un collar, unos pendientes, un anillo, una pulsera; es para que te encante y te enamores de ella.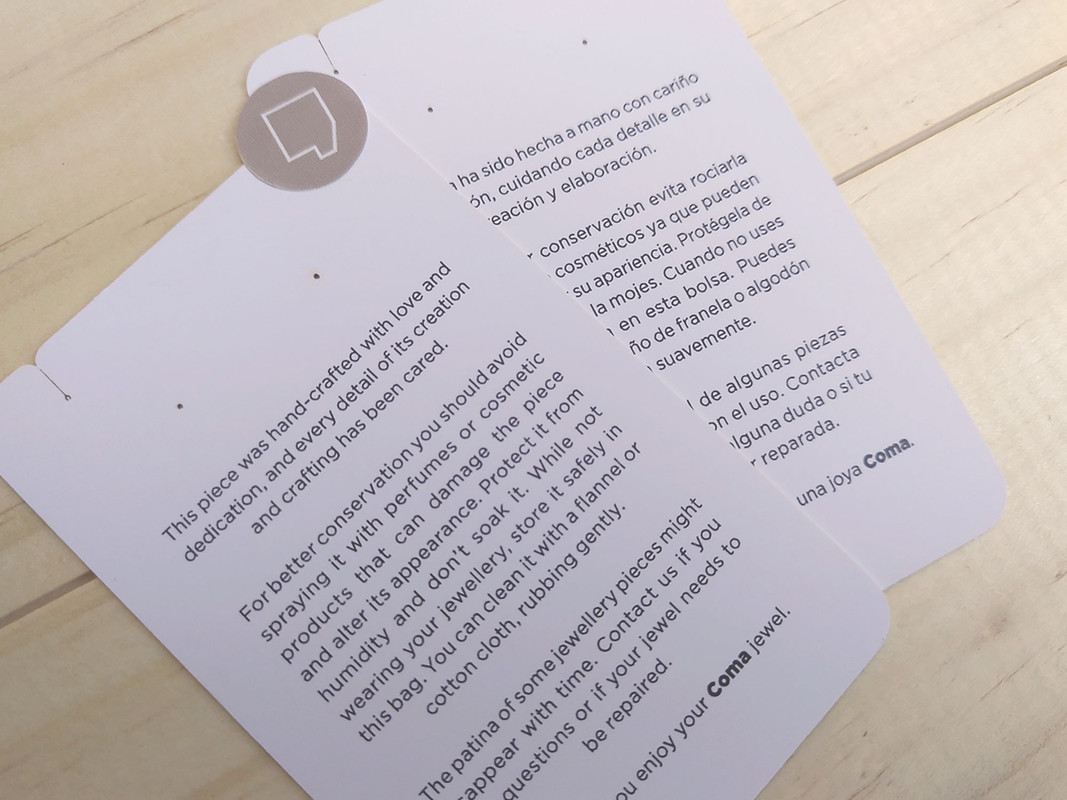 Our commitment and we would like it to be yours also. Take care of jewel, love it and treat it with love. We will provide you a guide with basic tips included in the jewelry packaging so your precious jewel will look great and you will be able to wear it as you deserve.

Este es nuestro compromiso y nos gustaría que fuese también el tuyo. Cuida la joya, ámala y trátala con cariño. Te proporcionaremos una guía incluida en el packaging con pequeños tips para que tu joya se vea fenomenal y puedas lucirla como tú mereces.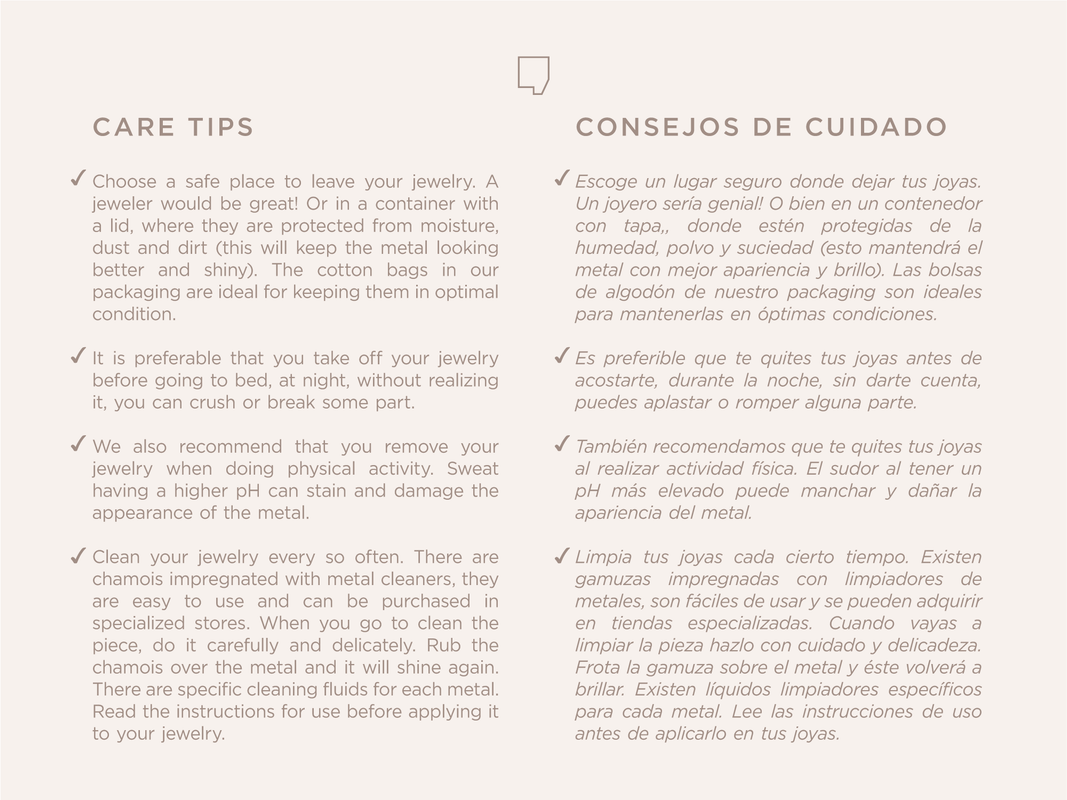 Keep in mind:
At Coma® for the creation of our pieces we use sterling silver and brass, pieces bathed in 18 carat gold 3 microns thick and natural stones. We also use patinas to achieve contrasting effects on the metal, they can be dark and blue-green patinas. We apply a varnish to some pieces of brass to protect them and to make them last shiny longer. It is not possible to apply any cleaning liquid to these pieces with varnish since the varnish prevents its action.
Silver when not used and is in contact with the environment (without any protection) tends to darken quite a bit, it is the natural oxidation process of this metal. Brass also changes its appearance after final polishing in the workshop, it is natural for this to happen to it. Both metals can be cleaned and will return to their initial appearance, as freshly made.
For better conservation, it is important to bear in mind that humidity reacts all metals, even gold and silver. Some metals have a greater presence of copper in their alloys, react in a more noticeable way to this factor, among them are brass, bronze and copper itself.
Each person has a unique pH of their skin. Even the Ph can be different in different parts of the body of the same person. If you have a very acidic Ph, you may be able to accidentally leave dark spots on the metal.
Ten en mente:

En Coma® para la creación de nuestras piezas utilizamos plata de ley y latón, piezas bañadas en oro de 18 quilates de 3 micras de espesor y piedras naturales. También utilizamos pátinas para lograr efectos de contraste en el metal, pueden ser pátinas oscuras y verdes azuladas. A algunas piezas de latón les aplicamos un barniz para protegerlas y para que perduren brillantes por más tiempo. A estas piezas con barniz no es posible aplicarles ningún líquido limpiador ya que el barniz impide su acción.
La plata cuando no se utiliza y está en contacto con el ambiente (sin ninguna protección) tiende a oscurecerse bastante, es el proceso natural de oxidación de este metal. El latón también cambia su apariencia después del pulido final en el taller, es natural que le ocurra esto. Ambos metales se pueden limpiar y volverán a tener la apariencia inicial, como recién hechos.
Para una mejor conservación es importante tener en cuenta que la humedad hace reaccionar a todos los metales, incluso al oro y la plata. Algunos metales al tener en sus aleaciones mayor presencia de cobre, reaccionan de una forma más notoria a este factor, entre ellos están el latón, el bronce y el mismo cobre.
Cada persona tiene un Ph único de su piel. Incluso el Ph puede ser distinto en diferentes partes del cuerpo de una misma persona. Si tienes un Ph muy ácido, tal vez, puedas dejar, sin querer, manchas oscuras en el metal.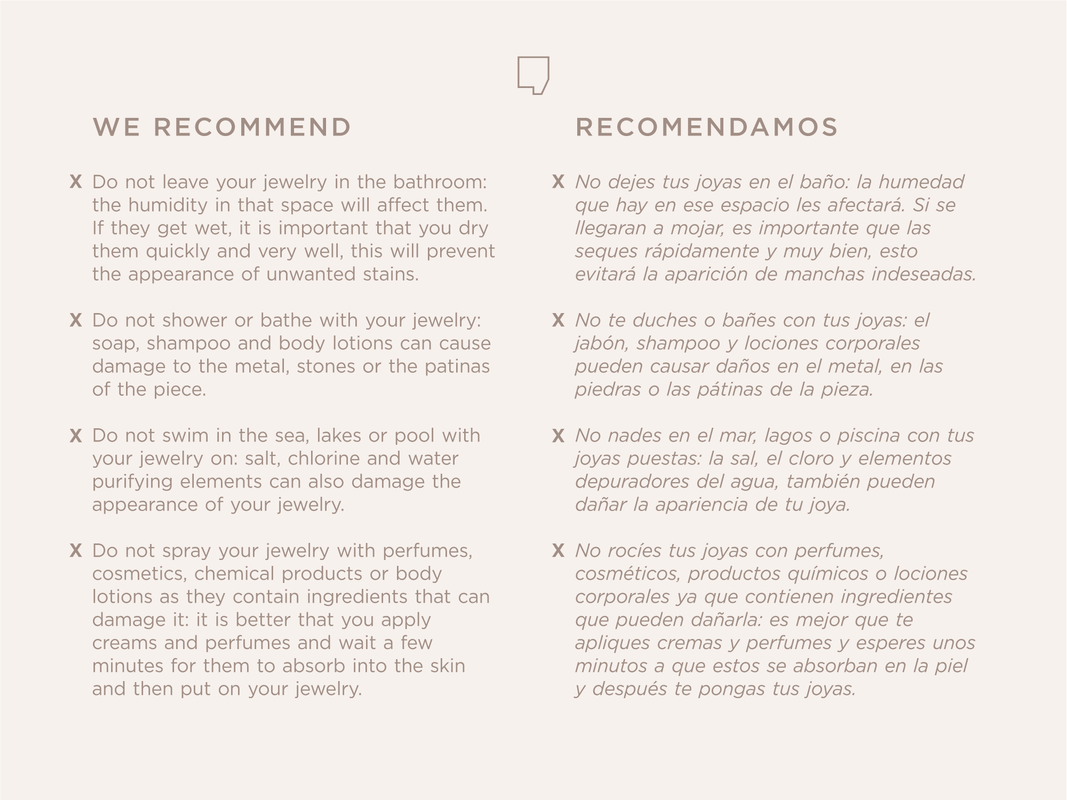 Contact us if you have any questions or if you need to repair a part that you have bought from us, contact us and we will do everything possible to solve that damage. And most importantly, use your jewelry, do not leave it stored and forgotten at the bottom of a drawer. Wear them with joy and pride, it's the best you can do for them :)
We will delighted that you have a Coma® jewel.
Contacta con nosotros si tienes alguna duda o si necesitas reparar alguna pieza que nos hayas comprado, comunícate con nosotros y haremos todo lo posible por solucionar ese daño. Y lo más importante, utiliza tus joyas, no las dejes guardadas y olvidadas en el fondo de un cajón. Lúcelas con alegría y orgullo, es lo mejor que puedes hacer por ellas :)
Encantados de que tengas una joya Coma®.